2019Public Art"The Island of Things"
豐原社宅公共藝術《物件之島》
「會想請居民用畫的方式把物件的故事說出來,是因為塗鴉是一種很直覺性的創作,過程不受拘束,當他們拿起畫筆繪製跟自己息息相關的物件,很容易在過程勾勒許多動人的故事。」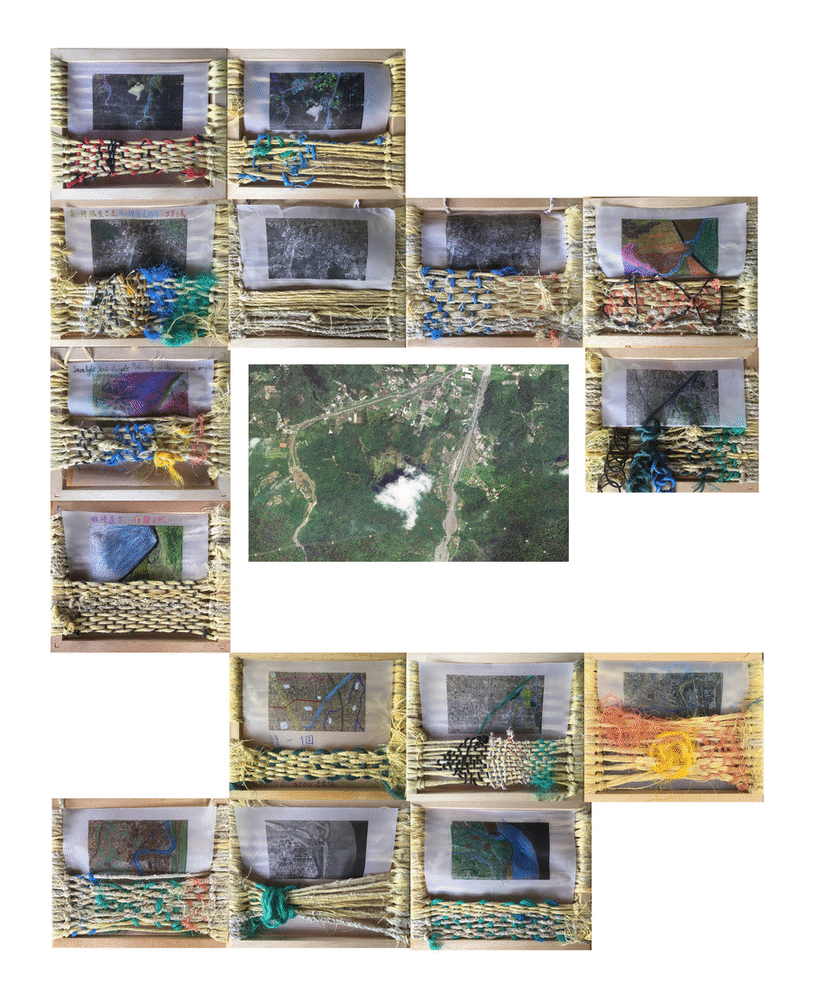 WEAVE THE RIVER
海祭獻禮
工作坊將帶領參與者思考:"如果一起寫一封給環境與未來你我的一封情書,那會是什麼?"希望藉由認識海洋當今議題,共同在手織廢棄漁網與書寫的創作過程,理解自然與人類生活的交織關係,與自身和環境的連結,而能啟發我們創意地對自然環境與社會的變遷有所回應與想像。
THE TREE'S EMBRACE
樹的邀請
台灣新竹山上,靜靜觀察太陽的東昇西落,走進附近山邊的竹林,竹子每日每夜向上生長,彷彿給予我們什麼啟示?人與人的關係,人與環境的關係,人與社會的關係。當看著湖面上產生光影搖曳的變化,夢想做一個靜靜地邀請人與人來作客分享的地方。
2018Public Art"The Island of Things"
豐原社宅公共藝術《物件之島》
「會想請居民用畫的方式把物件的故事說出來,是因為塗鴉是一種很直覺性的創作,過程不受拘束,當他們拿起畫筆繪製跟自己息息相關的物件,很容易在過程勾勒許多動人的故事。」
《House inside House》project is a co-creating batik artwork with the children in the village. After school, the children drew what they observed in our surroundings and I drew six senses and the imagination of the river. Finally, we sewed the fabric as a house inside the house.
《Blue Bird Net》project is an installation in front of the studio and aside the river. I collected bamboo waste from the bamboo basket makers who are usually woman in the village and made them as blue bird nets from the top of tree extended to the river. In the night, the field of the studio became a stage for local young musicians.
2016 TTTIFA "LIVING AND LIFE: THE ART REVIVAL PLAN OF CLOTH WASTE "
"Living and Life"
My work was inspired by my daily life. Through the process of making art, I start to think about the passing of time and stretching of memory. The materials of the work are water pipes and clothing that create the life image. I collected the unused rags that was produced by the tailors and knit them to fit in with the space of the exhibition. When the exhibition begins, I look forward to see the work, that concludes the meaning of history, culture and personal memory, create connections with the audiences.
​
In 2014, we encountered social groups concerned about the homeless issue on the road by chance. They were organizing street presentations. We found that the homeless seem to be different from our origin imagination. From that time, it decreased our curiosity about the homeless. We put attention to information of the homeless and participate in related activities. Gradually, we realized the difficulties of the homeless, and the seed of the My Way Back Home plan was in our heart.
In 2016, a chance to exhibition in the Wanhua District, the Bopiliao Historical Block. When it comes to Wanhua, the homeless are reappeared in people's mind. Besides Longshan Temple, Wanhua is a place that many homeless people assemble in. Therefore, by the opportunity, we observe the phenomenon of the homeless, and convert it into art and text records. Consequently, We conceive My Way Back Home plan.
2016 Taipei, Yunlin, Houli
離開台北,那幾天回后里鄉下,跟母親在空曠地摘採芒草,是離阿公墓園不遠的地方,我們像發現秘密基地一般,無止境地在陽光下探險、曝曬,我陡然發現我媽的俐落身體遺傳給我了,是芒草的堅毅、稻草的包容。
太魯閣部落青年曾赤腳和我上山找昆蟲,結過的蜘蛛網,他總能輕易找到。黝黑的他,挺立自在地說著:「森林是我家的門。」這話,一直記得,一直感覺。
從小手都沒停過,像風一般的女孩,喜愛摘採葉子在三合院辦家家酒,現在很多左鄰右舍玩伴都離去了,是長大了,大到阿嬤都老了。她看著我開心拿著大把豐收的芒草,會憶起那年代婦女辛苦綁芒草當掃把賣的日子。細心幫我整理綑綁時,偷偷讓攝影機記錄下阿嬤的真情歲月。
稻草在台灣曾是如此親近,在傳統社會生活裡被運用著;芒草在空曠地隨風飄蕩,成為一片風景。但現在在都市裏,這些已漸漸看不見了。選擇了編織的重複,彷彿就在體驗生命的流動,寂靜空間下的創作,作品提供了想像的場域,彷彿在穿越後開始思考:在同片天空下成長,什麼門,不扭曲自己,不破壞環境。
TRIBE DOCUMENTARY PROJECT
花蓮和平部落 影像紀錄計畫
許多朋友們支持奉獻的部落共生計畫仍然在持續地進行著,透過影片紀錄的呈現,帶著大家一起來看看部落的世界,持續的給予我們支持和鼓勵。此計畫申請104夢想搖籃,東部偏鄉部落服務車募集 - 用一部車子轉出部落青少年的未來夢!